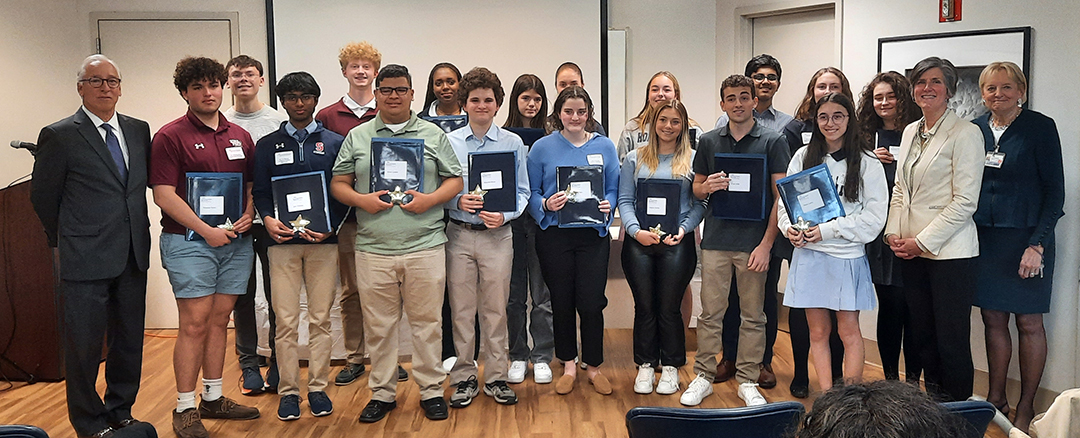 Congratulations to our 2023 Honorees!
The St. Vincent's Auxiliary is pleased to honor 18 area high school students for their volunteer service. Each year, the Auxiliary presents awards to high school students whose volunteer service exemplifies St. Vincent's core values of respect, integrity, compassion and excellence.
Please scroll down to see the winners and their essays.
The 2023 recipients are:
Archbishop Stepinac High School
Eric Welwin, Class of 2023
Bronxville High School
Alexandra Hulbert, Class of 2023
Fordham Preparatory School
Ryan Irving, Class of 2023
The Forman School
Isabella Farrelly, Class of 2024
Harrison High School
Lindsay Reis, Class of 2024
Horace Greeley High School
Arjun Menon, Class of 2025
School of the Holy Child
Chloe Mulshine, Class of 2024
Iona Preparatory School
Sebastian Henao, Class of 2023
Mamaroneck High School
Boaz Farscht, Class of 2024
Maria Regina High School
Siena O'Brien, Class of 2025
Stella O'Brien, Class of 2026
The Masters School
Rachel Katzke, Class of 2024
Rye High School
Benjamin Mayer, Class of 2023
Sacred Heart Greenwich
Jadamarie Henry, Class of 2025
Salesian High School
Kevin Ayapan, Class of 2023
Scarsdale High School
Tyler Ziffer, Class of 2024
The Ursuline School
Julia Kret, Class of 2024
Emma Lanza, Class of 2024