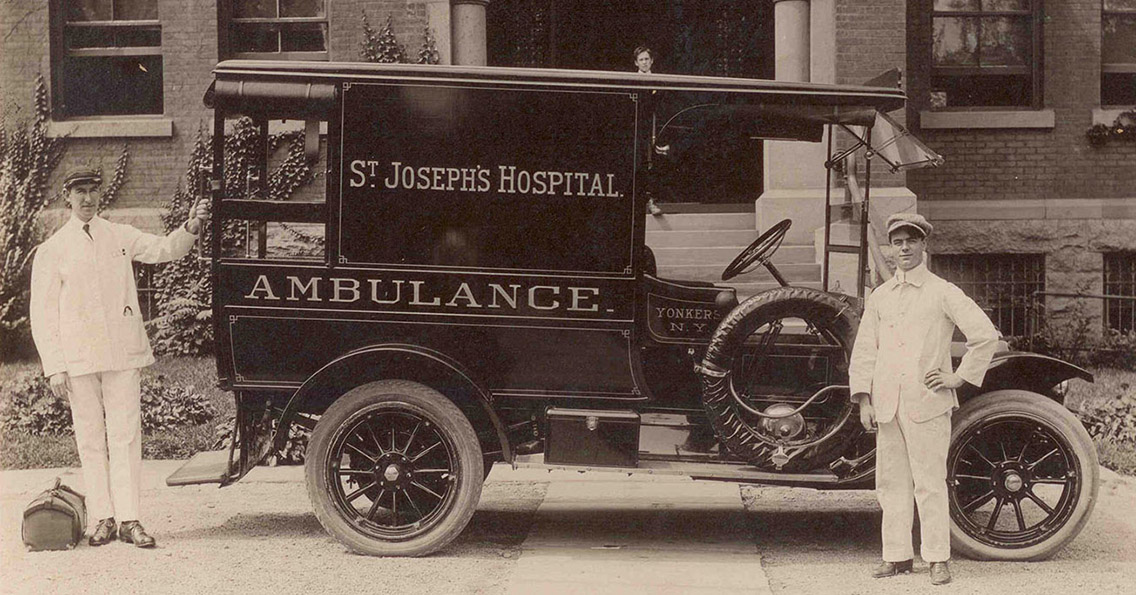 133 Years of Service to the Community
The Sisters of Charity of New York founded St. Joseph's Hospital in 1888 on the site of St. Aloysius Academy for Boys at the corner of South Broadway and Vark in Yonkers. The Sisters, who had been part of the community since before the Civil War, had long wanted to open a hospital in Yonkers for "the aid and support of the indigent sick," wrote the order's Mother General Mary Ambrosia Sweeney.

The hospital struggled in its early years, but with the support of the St. Joseph's Aid Society Women's Auxiliary group, an endowment fund was established to fund the hospital's mission of caring for the sick poor. Saint Joseph's grew as Yonkers grew and by the 1930s, outgrew its original building and built a new wing.

New programs followed, such as Yonkers' first physical therapy department, a renal dialysis unit and expanded psychiatric services. The Family Health Center and family medicine residency programs also were introduced.

When Sister Mary Linehan arrived in 1968 to become Saint Joseph's president, the hospital's future was in doubt. The 1934 hospital building was outdated, and the economics of healthcare made it increasingly difficult to serve those in need. She made the decision to keep Saint Joseph's open and spent the next 34 years overseeing construction of a new hospital, a nursing home, and expanded outpatient services throughout the community.

In 2000, Michael J. Spicer was named CEO. He is the first male and first lay president of Saint Joseph's Medical Center. Under his leadership, Saint Joseph's has expanded in Westchester County and New York City through its 2010 acquisition of the behavioral health services of St. Vincent's Hospital Westchester, becoming one of the largest behavioral health providers in New York State. The opening of new primary care and cardiovascular centers in Yonkers demonstrate Saint Joseph's continuing commitment to the community.

What began over a century ago as a small community hospital on the corner of Vark Street and South Broadway in downtown Yonkers, has emerged as a robust and growing health care system serving patients with programs and services in cities, towns and villages from Port Chester to Yonkers to the Bronx to Manhattan to Staten Island. Saint Joseph's plans to continue to build on its 133-year legacy and looks forward to continuing to meet the medical and behavioral health needs of all those in need and continue to combat the social determinants of health and remain adaptable in the ever-evolving arena of healthcare.