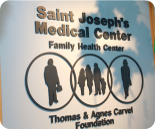 Reducing Infections at Saint Joseph's Medical Center
Saint Joseph's Medical Center announces today that it has taken a major step toward the prevention of two costly, and in some instances, deadly infections through the use of an advanced technology solution provided by healthcare technology firm CipherHealth. The infections are central line associated blood stream infections (CLABSI) and catheter-associated urinary tract infections (CAUTI). The hospital will perform CAUTI/CLABSI rounds using CipherHealth's digital rounding solution, Orchid, to track issues and ensure proper protocol is followed to reduce the number of annual infections.
Central line and catheter-associated urinary tract infections are two of the most common hospital acquired infections, yet both are almost entirely preventable. These infections lead to increased healthcare costs, length of hospital stays, and morbidities. According to the CDC, there are respective averages of 13,000 deaths from CAUTIs and 28,000 from CLABSIs each year in the United States. Combined, CLABSIs and CAUTIs add an additional $2 billion of healthcare costs annually. Research has shown that following simple checklists can dramatically reduce these infections from occurring, but only if all of the correct steps are followed during every patient interaction.
Orchid is an adaptable solution featuring scripts and checklists, utilized in a variety of ways by hospitals across the country in order to improve the patient care experience. CipherHealth's partnership with Saint Joseph's demonstrates yet another ingenious use for Orchid, by delivering a tool to effectively address a costly healthcare issue.
"We are excited to be utilizing a new technology for this important initiative. We are hoping that the efficiency brought by Orchid, including the real-time data capture, the automated reporting capabilities, and the pre-programmed alerting can help our organization expand the scope of our patient safety rounding program and bring positive and lasting improvements for our patients," noted Margaret Cusumano, Chief Nursing Officer at Saint Joseph's.
Saint Joseph's is proactively working to ensure that the proper procedures are followed every time a clinician interacts with a patient to drastically reduce the infection risk. Teams at Saint Joseph's are using customized scripts with Orchid to target root causes of both types of hospital-acquired infections. The script's questions cover the preparedness of the care environment, patient information, and timeline and dressing of each catheter. By addressing each stage of the process, the scripts include comprehensive questions to ensure that no shortcuts are taken.
Orchid also provides detailed reports and analysis, which provides the executive team at Saint Joseph's unprecedented visibility into CLABSI/CAUTI protocol compliance rates, so that they can pinpoint exactly where and when breakdowns in this process are occurring. These reports also track trends in compliance over select periods of time and identify the most common reasons for non-compliance. This transparency is valuable for uncovering opportunity areas that can drive organization-wide improvements.
"We are excited to implement Orchid for Saint Joseph's patient safety initiative. The annual rates for these types of infections are considerably high at hospitals across the country, and we are proud to be part of Saint Joseph's proactive leadership in reducing rates and improving patient care," said CipherHealth Account Strategist, Alicia Yang.