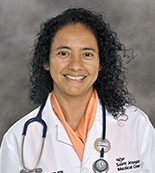 Evelyn Batres, MSN, RN, FNP-BC
Biography
Evelyn Batres, MSN, RN, FNP-BC, is a Family Nurse Practitioner with a passion for providing high-quality healthcare services to her patients. With a strong educational background and extensive clinical experience, Ms. Batres has honed her skills in patient assessment, diagnosis, and treatment planning.
Ms. Batres takes a patient-centered approach to providing care, focusing on educating and guiding patients to promote overall health and wellness. She is skilled in conducting thorough patient evaluations, reviewing lab results, and providing preventive care, including well-child checks, adult physicals, and gynecological examinations. Ms. Batres is also experienced in prescribing appropriate pharmacologic and non-pharmacologic treatments to support her patients' health and comfort.
Ms. Batres previously served as a Clinical Nurse Manager and an Emergency Room Nurse at local hospitals where she excelled in educating patients, responding to emergency situations, and coordinating efficient medical care. Her expertise in physical assessment and effective communication strategies continue to contribute to enhanced patient experiences and improved quality of life.
Education & Training
College of Mount Saint Vincent
Chamberlain College of Nursing
Locations
Park Avenue Family Medicine

102 Park Avenue
Yonkers 10703