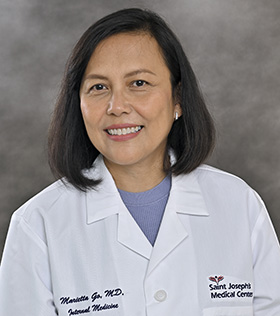 Biography
Marietta Ecarma Go, MD, is a highly dedicated and compassionate internal medicine physician. With a career spanning over three decades, Dr. Go has become a trusted and respected healthcare provider in the communities she serves.
Dr. Go has been a fixture at the Saint Joseph's Park Avenue medical practice, where she has served as a primary care physician since 1996. Her genuine care and empathy for her patients have earned her a reputation for delivering personalized and patient-centered care.
As a firm believer in preventive medicine, Dr. Go emphasizes the importance of patient education and encourages her patients to take an active role in managing their health. She fosters strong doctor-patient relationships, creating an environment where individuals feel comfortable discussing their health concerns openly.
Education & Training
Medical School: Cebu Institute of Medicine
Locations
Park Avenue Family Medicine

102 Park Avenue
Yonkers 10703