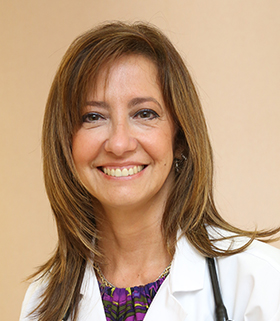 Biography
Born in Spanish Harlem to Puerto Rican parents with only a sixth grade education, Dr. Velez became the first in her family to attend college. Upon graduating from Fordham University with a bachelor's degree in Biology, Dr. Velez enrolled in the American University of the Caribbean for her medical studies. Ever in search of knowledge and education, Dr. Velez attended and graduated from Boston University School of Law. Following her graduation from law school, Dr. Velez decided to return to her first passion – Medicine. Dr. Velez completed her residency in Family Medicine at St. Joseph's Medical Center in Yonkers, New York where she served as a chief resident. Dr. Velez continued at the residency program as a core faculty member and in 2006 was appointed as the Program Director of the Family Medicine Residency Program. Dr. Velez was listed in the "Guide to America's Top Family Doctors," 2006 Edition, Consumer's Research Council of America and was the Recipient of "Clinical Leadership Award" by the Bronx-Westchester Academy of Family Physicians in 2008.
Dr. Velez served as the Interim Chair of the Department of Family and Community Medicine at New York Medical College from 2016 to 2018 where she continues to remain as a member of the Advisory Committee on Graduate Medical Education since 2006 as well as a member of the Committee on Diversity and Inclusion since 2014. Dr. Velez continues to serve as Vice-President of Bronx-Westchester Academy of Family Physicians (BWAFP) Chapter of NYSAFP since 2011.
In addition to her work and dedication to medical education, Dr. Velez has become an integral part of the community in Yonkers where she serves as a member of the Mayor's Health Advisory Board for City of Yonkers since 2018. Dr. Velez was the recipient of the the "Service to the Community Award" jointly by the Yonkers Hispanic Chamber of Commerce and the Mexican-American Chamber of Commerce in 2012. Dr. Velez currently serves as Past President of the Medical Board at St. Joseph's Medical Center and was honored as "A Top Latino Leader" at the 5th Annual National Latino Leadership Conference in Los Angeles, CA in 2019. In addition to the aforementioned accomplishments, Dr. Velez's self- identified singular accomplishment is being Mom to her son, Christian Caro.
Education & Training
Medical School: American University of the Caribbean School of Medicine
Locations
Saint Joseph's Medical Center

127 S. Broadway
Yonkers, NY 10701
Certifications & Recognition
Board Certified: Family Medicine
Residency: Family Medicine, Saint Joseph's Medical Center