Amarachi Abara, MD
Abia State University
Amarachi was born and raised in Nigeria. Her interest in Family Medicine started after she received post-op care from a family physician in Nigeria. As a fourth year medical school student at that time, she was inspired. After relocating to the United States she had clinical externships in various primary care clinics. She also gained experience under the New York limited permit providing care to HIV/ADDICTION and geriatric populations in both sub-acute and long-term Facilities. Her love for community service drove her to becoming a member of the Ghana Association of Medical Aid where she provided various preventive care services to underserved populations in the tristate area. She loves Family Medicine as it gives her the opportunity to care for diverse population and explore various career interests. Her interests include hospital medicine, HIV medicine and pain and addiction medicine. Outside of medicine she loves hanging out with family watching movies and cooking.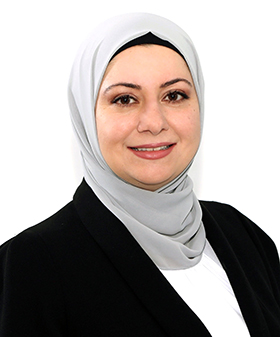 Noor Ibraheem, MD
University of Baghdad College of Medicine
Noor was born and raised in the capital of Iraq. Living in a big family surrounded by grandparents, cousins, and friends, she encountered many people who needed medical attention which wasn't always available. Since early childhood she realized the importance of the healthcare system and was striving to pursue a career in medicine.
Noor graduated from the finest university in the country, University of Baghdad-College of Medicine, then she chose to pursue a post-graduate education in Jordan by joining the residency program at the Specialty Hospital. There she became board-certified in Internal Medicine and worked intensely with multiple organizations to help refugees in the area.
Being ambitious and expecting the most out of herself, Noor moved to the United States, attracted by the outstanding medical education, training, technology, and innovations. She worked as a clinical documentation specialist and coder at Prime Healthcare in California, and later as a medical assistant in Yonkers, NY.
Noor's main interests are in preventative medicine and women's health, and her passion is to build a strong relationship with her patients and encourage them to take a step towards caring for themselves.
Noor enjoys spending quality time with family and friends, travelling with her husband and two children around the world, cooking many of her mother's traditional recipes, painting with her daughter, biking, and caring for her garden.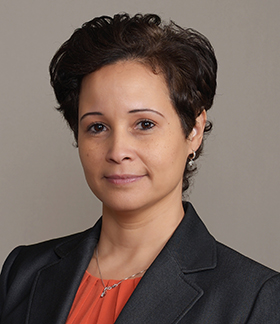 Orlene Kinney, MD
Medical School at Universidad Nacional Pedro Henriquez Urena
Orlene was born in Yonkers, NY and grew up in the Dominican Republic, where she also attended Medical School at Universidad Nacional Pedro Henriquez Urena. During medical school, she became involved in mission trips where she gained a huge interest in rural medicine and underserved populations. After graduation, she returned to the U.S., where she worked at various medical facilities, gaining useful medical knowledge and clinical skills.
She hopes to stay a committed learner and educator, and become a dependable source of trust and humanity to her patients.
She is an avid animal lover. In her free time, she loves spending time with her kids and her cat Georgie. She also enjoys watching crime shows, visiting museums, zoos and aquariums.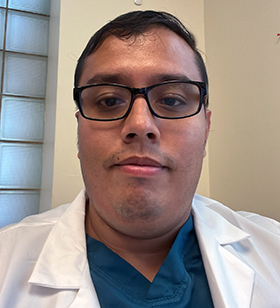 Andres Molina, MD
Medical School La Universidad Católica de Santiago de Guayaquil
Andres was born and raised in Yonkers, NY living in the Nodine Hill neighborhood. He attended the Yonkers public school system from K-12th grade and graduated from Gorton High School. From a young age, he became interested in the medical field due to his perceived calling to help those in need in his community which lead him to enroll in the medical magnet program at Gorton HS as well as participate in Columbia University's S-PREP program for aspiring physicians. Due to his love of culture and travel though he would take a different educational path as he would go on to assist La Universidad Católica de Santiago de Guayaquil (UCSG) in Ecuador where he directly entered medical school. He did this because he wanted to learn more of his family's background, understand his culture's idiosyncrasies, and treat those in need.

Upon returning to the USA, he would continue to help those in need both internationally as part of medical missions trips to Chile and Fiji, as well as locally working with his PCP during the height of the COVID-19 pandemic to provide essential care to this community. He believes that Family Medicine, as primary care, is one of the core essential societal pillars needed to hold and strengthen a community as a whole. He plans to be a part of this undertaking. During his spare time, he enjoys jogging/walking at Van Cortland Park, traveling, going to church, and spending time with family and friends.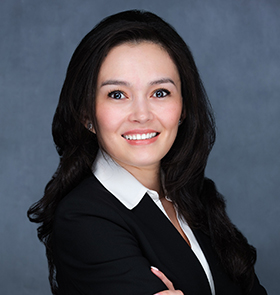 Malika Nurbekova, MD
St. George's University Medical School
Malika Nurbekova was born and raised in Tashkent, Uzbekistan. Her passion for medicine grew at the tender age of 15 years when she painfully watched her grandmother battle with the cancer. This experience pushed her to decide to pursue medicine, particularly family medicine, to alleviate the pain of patients and their families. While she was in her home country, Uzbekistan, she worked as a general practical nurse. She encountered different types of patients with varying diseases. As a nurse, she actively taught patients about self-management practices, such as adhering to medication, maintaining good personal hygiene, and self-monitoring for patients with chronic conditions. Although she was helping patients, she still felt that she was not doing enough as a medical professional. Resultantly, she decided to move to the U.S. to further her education and chart her career path in family medicine. She is a graduate of St. George's University Medical School. In her spare time, she enjoys hiking, gardening, and spending time with family and friends.
Dynell Pinder, MD
Howard University Medical School

Dynell Pinder was born in Manhattan but raised in Brooklyn, New York. He went to Long Island University Brooklyn campus for his undergrad, majoring in Biology, graduating with a BS, and attended medical school at Howard University where he completed his medical degree. Dynell has always had a passion for working with people from low income communities; subsequently, he applied to Saint Josephs allowing him the ability to address the needs of the underserved population.
Dynell was an adjunct professor at Touro College and a private tutor in math, science and SAT prep. He was an Academic Consultant mentor to the 500 Men Making a Difference program that provided meaningful service to the community in the form of mentoring, afterschool programming, civic engagement, renovations, green space work and food insecurity work supporting young men ages 12 – 22. Dynell is a third degree black belt in Judo known as a Sandan and was a nationally ranked judo competitor.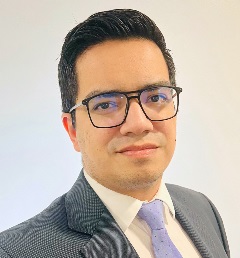 Hector Pinilla, MD
Fundacion Universitaria San Martin Medical School
Hector was born and raised in Bogota, Colombia. His interest in the medical field started at a very young age when he found himself confronting unusual challenges, always focused on finding a solution to the health problems of his family and friends. He attended medical school at Fundacion Universitaria San Martin in Bogota, Colombia. He then moved to Spain, where he worked in a center attending to transient European migrant communities. During those years, his experience as a medical practitioner had been a series of unexpected opportunities to provide care to some of our most vulnerable populations, with extensive experience in primary attention and public medical service.
Now while here in the US, he has the opportunity to work as a doctor in a diverse community in Yonkers, NY and participate in various research as COVID treatment. He is a proud Family Medicine resident at Saint Joseph's Medical Center providing his patients the best quality health care possible.
When he takes off his white coat, he loves spending time with his wife, family, and friends. He enjoys soccer, music, and traveling.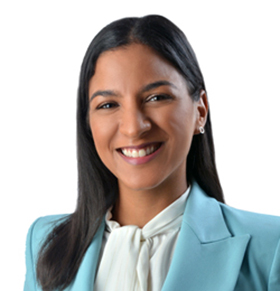 Gabriela Pelletier Rodriguez, MD
Instituto Tecnologico de Santo Domingo (INTEC) Medical School
Gabriela was born in Dominican Republic, raised in a small town in the south side. Her desired to become a doctor begging since early years as she comes from a family of doctors that serve her as inspiration to follow their path and serve others. After graduating from medical school, she work for a year in the Red Cross, where she had the opportunity to serve different communities and awake her interest in becoming a family physician. She will like to focus on preventing medicine and treat her patients in a holistic approach considering their lifestyle and personal beliefs. Gabriela enjoys spending time with her family and traveling, her hobbies include cooking and watching movies.​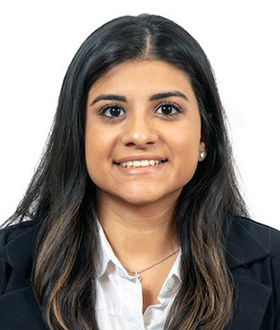 Arpita Shah, MD
American University of the Caribbean School of Medicine

Arpita was born and raised in Long Island, NY and went to college in Baltimore, where she earned her bachelor's degree in Biology at Johns Hopkins University. After college, she worked at a biotechnology company as a R&D scientist until she volunteered at a "slum clinic" in Faridabad, India and saw the challenges of providing health care in resource-poor conditions. It was then she decided to pursue her passion for medicine and attended AUC School of Medicine at St. Maarten. After graduating, she worked as a limited permit physician at nursing homes throughout underserved areas of Bronx. Arpita is also pursuing a MPH degree from Chamberlain University and plans to be an agent of change by bridging the gap between primary care and community initiatives. During her free time, Arpita likes running, watching scary movies, and trying out the newest restaurants in the area.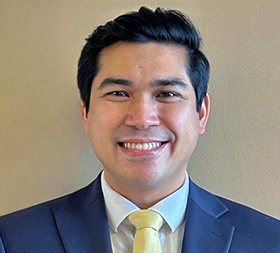 Mikko Tesalona, MD
University of Santo Tomas Faculty of Medicine and Surgery

Mikko was born and raised in New York. On his journey to becoming a physician he has worked in multiple aspects of the medical field. He has worked as a medical assistant, certified nurse's aide, and medical scribe. He attended medical school at the University of Santo Tomas Faculty of Medicine and Surgery in Manila, Philippines. When returning from the Philippines Mikko got a job as a Program Coordinator at a medical office. Here he learned to practice hospital and medical office administration. Mikko wishes to be a physician leader in the community.
Hobbies: Tennis, Basketball, Golf, Football, Table Tennis, Hiking, Cooking. Spending time with his 2 cats