Inpatient Rehabilitation Program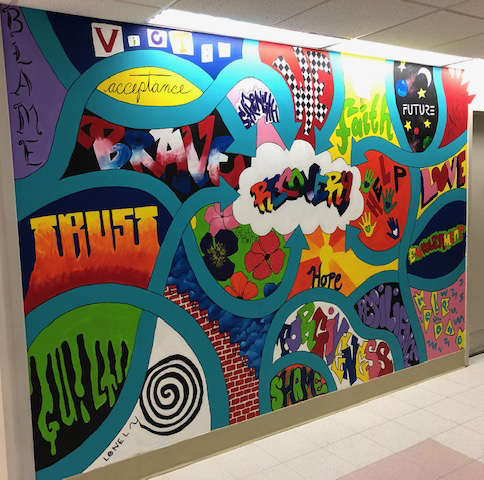 1 Doty patients designed and
created this unit mural
St. Vincent's Hospital Westchester offers intensive chemical dependency treatment, in our short-term inpatient setting, 1 Doty. We treat men and women 18 and older, using multi-disciplinary and evidence-based approaches to address the symptoms of addiction, trauma, and co-occurring disorders. Staff work in collaboration with clients, in developing treatment goals that are based on the unique needs of each individual who comes to us for help. Length of stay is up to 28 days.
Therapies and Services
The 1 Doty program offers an intensive level of care, providing support and structure to those in early recovery. Staff includes Credentialed Alcohol and Substance Abuse Counselors (CASACs), Licensed Creative Arts Therapists (LCAT), and Discharge Planner, who collaborate with clients, as a team, and provide trauma-informed individual and group therapy. Groups include approaches based in Cognitive Behavioral Therapy, Dialectical Behavioral Therapy, Creative Arts Therapy, Mindfulness, and Pet Therapy. Clients will be introduced to both the 12-Steps Program as well as aspects of SMART Recovery. Group components include: psychoeducation and understanding the impact of trauma, emotion management and developing coping strategies, co-occurring disorders, relapse prevention and harm reduction, as well as community skill building and family issues. Daily Recreation to cafeteria, game room, and basketball court are also available.
Our psychiatrist is on the unit daily, assisting with addiction sensitive psycho-pharmacological needs, including Medication-Assisted Treatment (MAT), as well as adjusting or maintaining psychotropic medications. Registered nurses are also on staff to address clients' mental and physical health needs.

All clients will receive thorough aftercare counseling to help maintain gains made while in treatment. Clients will work with the team and Discharge Planner to develop the most appropriate plan, send referrals, and connect to community supports.
Medication-Assisted Treatment (MAT)
This program offers and encourages a full range of medication-assisted treatment to support the recovery process. Oral and injectable medications, such as naltrexone and buprenorphine, along with certain others have been shown to reduce cravings and improve outcomes for patients.
Self-Help Meetings
AA and NA meetings are on site evenings, Monday through Friday, and twice a day on weekends to help clients connect to the recovery community.