Personalized Recovery Oriented Services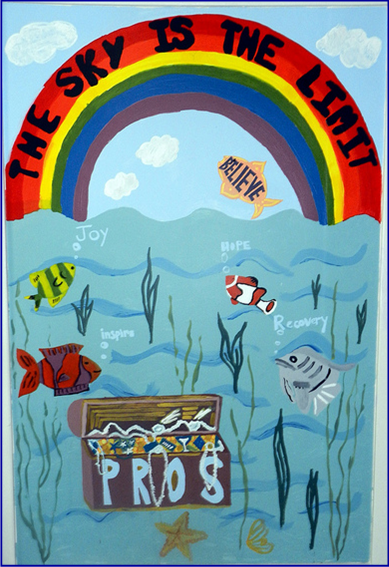 Personalized Recovery-Oriented Services (PROS) is a comprehensive program for individuals with serious mental illness. The PROS program helps people to overcome barriers and develop resources that can help them attain a valued life in the community by integrating treatment support and rehabilitation to help participants to achieve their goals.

Goals for participants in the program can include attaining higher levels of education and training, obtaining and keeping a job, and finding a preferred living situation. These goals are achieved by working on improved functioning, reducing hospitalization, reducing emergency services and reducing contact with the criminal justice system.

Programs are located at the St. Vincent's Hospital Westchester division and at the Saint Joseph's Wellness Academy in Staten Island. The following are the components of the program, but please note that the Staten Island program does not include Clinical Support.
Community Rehabilitation and Support (CRS)
Basic recovery services engage and assist participants in living successfully in the community by managing their mental illness and restoring skills and supports necessary for recovery.
Intensive Rehabilitation (IR)
Assists participants in attaining specific goals in areas such as education, employment and housing
Provides intensive relapse prevention to reduce the risk of hospitalization or involvement in the criminal justice system
Provides intensive co-occurring disorder treatment
Provides family psycho-education
Ongoing Rehabilitation and Support
Provides support to participants who are in the competitive workplace, including community-based counseling sessions.
Clinical Support (only at St. Vincent's)
Helps and individual managing disabling symptoms with services such as medication management, health assessment, clinical counseling and therapy. Services are integrated with rehabilitative services to provide comprehensive care. Please note that if clients have maintained long-standing relationships with outside clinicians, they can discuss continuing with the psychiatrist and therapist as an alternative to using the PROS clinical service while they are participating in the rehabilitative components. Our program staff collaborate well with outside clinicians.
About the Program
The PROS program at St. Vincent's is open Monday through Friday from 9:00 a.m. to 4:00 p.m., and the Saint Joseph's Wellness Academy is open Monday through Friday from 9:00 a.m. to 5:00 p.m. Individual schedules are worked out with each client after goals are established. PROS services are covered by Medicaid, Medicare and some private insurance will cover the clinical component. Medicaid will subsidize some transportation costs.

Prior to admission into the program, clients receive an orientation to PROS and are asked to sign an attestation.
Saint Joseph's Wellness Academy (PROS)
Hours
Mon.: 9:00 a.m. to 5:00 p.m.
Tues.: 9:00 a.m. to 5:00 p.m.
Wed.: 9:00 a.m. to 5:00 p.m.
Thurs.: 9:00 a.m. to 5:00 p.m.
Fri.: 9:00 a.m. to 5:00 p.m.
Sat.: closed
Sun.: closed